Residents Ask Columbia School Board for Rigorous Protection of Undocumented Students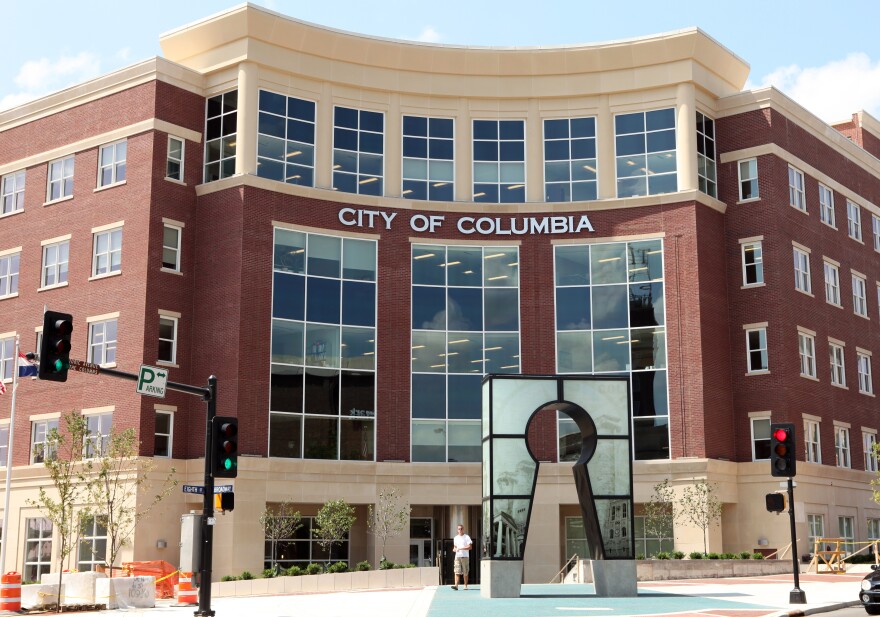 A group of about 70 people took over the Columbia School Board meeting Monday night to comment on the board's recent discussion on immigrant and undocumented students.
Extra chairs had to be brought in for the crowd of students, teachers and parents that showed up to voice their opinions. Multiple people asked the board to consider drafting a firm resolution to protect the students and their families in the district.
The board read a statement at its April 10 meeting which said, in essence, that the district is committed to protecting vulnerable immigrant, refugee and undocumented students while also following federal and state immigration laws, according to previous Missourian reporting.
Public comment continued Monday night as the Rev. Jim Bryan, a member of Faith Voices of Columbia, asked the board to create a strong policy that will protect the students.
"This is my community," he said. "I want these children to be safe."
Victoria Boyd-Kennedy, an English instructor at Centro Latino, also voiced her support for the creation of a resolution by the board.
She said she has seen a reduction in the number of people attending her classes and attributed that to fears they may hold about their undocumented status.
"Even those with documentation are afraid, so I can hardly imagine how those who are undocumented are feeling," Boyd-Kennedy said. "Fear permeates the lives of those I consider friends."
Several students also came to the meeting with signs to protest the phasing out of German and Japanese language classes from middle and high schools.
Wolfgang Schaefer, a student taking German, said that the decision to create multi-level Japanese and German classes during the phasing out process — where one teacher would instruct multiple levels of a language during one class period — will hinder student learning.
Schaefer also said that he used to be able to compare the school district to any private school and find the same opportunities, but removing languages would remove that equal standing.
The German and Japanese language classes are being phased out because of small class sizes, but Rock Bridge High School freshman Crystal Odor said the small class sizes provide a better learning experience.
"My Japanese class isn't just a class, it's a community," she said. "It's a family."
Following the public comment section, the board moved on to regular action items including collective bargaining agreements and a presentation from the Diversity Awareness Partnership, a St. Louis-based nonprofit for education about diversity and inclusion.
Collective bargaining agreements
The board unanimously approved new collective bargaining agreements with teachers, parent educators and custodians.
The teacher collective bargaining agreement increases teachers' base salary based on their level of education. Teachers without a Ph.D. would receive a $330 increase to their base pay, while the increase for teachers with a Ph.D. would be $3,000, according to previous Missourian reporting.
The new agreement also restructures the salary schedule, increasing the base salary for teachers with a bachelor's degree to be equal to that of the base salary of teachers who have a bachelor's degree plus 15 hours of master's-level courses.
"This was four years of hard work," Deputy Superintendent Dana Clippard said.
The agreement also added better working conditions for teachers, including district-provided sample lesson plans and more resources for teachers who move from classroom to classroom.
The agreement with parent educators increased the base salary for parent educators who have a bachelor's degree with one or two years of experience. It also increased the base salary for parent educators with a bachelor's degree plus 15 credit hours of master's-level courses and one year of experience.
The agreement with custodial staff increased workers' salary based on experience, starting with an increase of $.30 per hour for workers with one year of experience.
"We have made these good, solid jobs," Chief Financial Officer Linda Quinley said. "We're starting to see better retention this year because of that."
Five-year diversity plan
The Diversity Awareness Partnership presented its findings from its audit of Columbia Public Schools and recommended a five-year diversity plan be implemented in the district. Superintendent Peter Stiepleman last year asked the nonprofit to conduct the audit in an effort to help implement a plan to increase diversity awareness among students, teachers and faculty.
The nonprofit's Regional Manager Nikki McGruder presented a five-year plan that would aim to do just that.
"We want to embed a celebration of diversity into everything that we do," McGruder said. "It's not enough to just do a one-time event."
The five-year plan is divided into three stages: year one, year two and years three through five.
In the first year, the district would begin embedding diversity into curriculum at the kindergarten and first grade levels. This would involve presenting positive messages from various socio-economic groups so that every student in the class has something to aspire to, McGruder said.
In the second year, the district would send survey forms to collect family demographic data, and families would create culture kits. McGruder described these kits as family-made boxes that include items specific to their culture and heritage that could be shared in the classroom with other students.
In the third, fourth and fifth years, the culture kits would be implemented at the elementary, middle and high school levels, respectively.
McGruder said that accountability checks would be needed to hold the district to whatever promises they make, and cost estimates of the five-year plan will be discussed during future meetings.