Coal Powers Pulitzer-Prize Winning Music For Kansas City's Open Spaces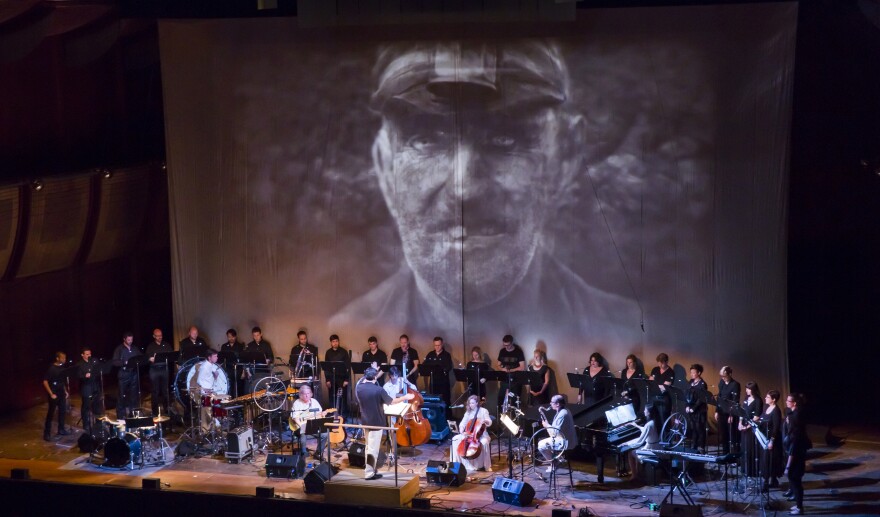 No one who lives in the United States today is removed from the coal industry.
Composer Julia Wolfe makes that point in the final movement of her 2015 Pulitzer Prize-winning oratorio "Anthracite Fields," listing various everyday activities that require energy — baking a cake, drilling a hole, washing clothes — energy powered, at least in part, by the coal industry.
"Anthracite Fields," which explores the history, hardships and community of the Pennsylvania coal mining industry just outside of Scranton, comes to Kansas City as part ofOpen Spaces, when Bang on a Can All-Stars join the Grammy Award-winning Kansas City Chorale at the Folly Theater on September 13.
"Bang on a Can All-Stars are one of the premier contemporary music ensembles in the world, but despite 30 years together and global recognition, until now they have never been invited to perform in Kansas City," says Open Spaces curator Dan Cameron.
"Open Spaces is bringing in national acts and we are happy and proud the Kansas City Chorale is regarded in that same company," says Charles Bruffy, the Kansas City Chorale's artistic director.
Wolfe grew up in a small town in Pennsylvania. She later co-founded Bang on a Can, now a sprawling arts organization, with two other composers in New York City in the 1980s (the organization's All-Stars are its touring musicians), and has created works for groups all over the world.
The first organization from her home state to commission a piece of work from her was the Mendelssohn Club of Philadelphia, so Wolfe looked to the region's history for inspiration. She admits to not knowing much about the coal mining industry.
"I didn't know what I was going to find. I went completely open," says Wolfe, "I really wanted to ask questions and listen."
She visited the Pennsylvania Anthracite Heritage Museum, talked with miners, interviewed families from the region, studied the history and the geological formation of coal, even went into the mines, now decommissioned.
Her resulting libretto incorporates found and manipulated text from interviews, historical records, nursery rhymes, speeches, advertising campaigns and the terms used to describe coal itself, its shaded metaphors and imagery.
The musical treatment, she says, is "both a response to the rhythm of the text and the meaning, and the visual landscape" of the coal mines. "I tried to capture a visual image in sound," Wolfe explains.
For instance, the work opens with a low rumbling, Wolfe's depiction of an "under the earth sound."
"Anthracite Fields" conveys the history and brutality of the industry, beginning with an intoned list of names from the Pennsylvania Accident Index, compiled from the late 1800s through the early 1900s. Throughout the work, Wolfe uses other lists to approach the enormity of the industry and its complete influence on daily life, but also to recognize the inherent risk and overlooked humanity of the people involved.
One movement lists flowers grown in the gardens of coal mining families. Wolfe interviewed Barbara Powell, now in her seventies, who had grown up in the town: "She starts to name all these flowers, and it was just this beautiful moment in all of this very dark history," says Wolfe.
She ends that movement on "forget-me-not," in homage to a man who told her "I really hope people don't forget about this life that we had here."
"It was very complicated and dangerous," says Wolfe, "but also a lot of camaraderie and incredible community support."
Wolfe does not balk from the industry's harsh conditions and dangers, reinforced by projections created by scenographer Jeff Sugg. Among them are images of somber coal miners and smudged breaker boys.
"The piece really doesn't exist without that," says Wolfe. "The whole piece is really illuminated by what Jeff did, which extends the story."
The piece is not meant to be a documentary, says Wolfe.
"It's somewhere between history, with this photography, and art. It's not like you are watching a movie. Your eye can move from what Jeff is doing to the singers, to the instrumentalists … the pacing is so gradual and beautiful that you have time to meditate, to take it in," she says.
"Anthracite Fields" also honors the changes these workers instigated in the labor movement. Wolfe uses a speech made by John L. Lewis, president of the United Miners Union, to a congressional committee.
"He's kind of an Orson Wellian figure, with these big bushy eyebrows, and he's very intense. His way of speaking influenced how I set the text," she says.
John L. Lewis's speech to Congress:
https://www.youtube.com/watch?v=J741fLCJkAQ
"Speech," from Julia Wolfe's "Anthracite Fields":
https://www.youtube.com/watch?v=FQB0cFH80Bc
"He's saying that those of us who live in comfort, we owe protection to these men and we owe security to their families if they die," Wolfe says of Lewis.
"Even in areas where there's definitely no coal mining…there are people there that connect with this subject. One person in Los Angeles came up afterwards and said, 'My grandfather is on your list of names.' That was just chilling."
"The idea of challenging our audiences with works that require commitment, stamina and focus," says Open Spaces' Cameron, "is very much in keeping with what our visual art installations are also attempting to do -- create an aesthetic experience that aspires to the highest possible artistic goals, and achieves them with both precision and excitement."
"Anthracite Fields" has evolved since its premiere, just as the landscape and communities around the coalmines have changed with the industry. But its essence remains a heartfelt message of universal struggle for human rights and human dignity, human connection and the global effect of this history.
"Anthracite Fields," performed by Bang on a Can All-Stars and the Kansas City Chorale, 7:30 p.m. Thursday, Sept. 13 at the Folly Theater, 300 West 12th Street, Kansas City Missouri 64105. Discussion with composer Julia Wolfe for Open Spaces' 21c Salon, 5:30 p.m. at 21c Museum Hotel, 219 West 9th Street, Kansas City Missouri 64105.
KCUR contributor Libby Hanssen writes the culture blog Proust Eats A Sandwich. Follow her on Twitter, @libbyhanssen.
Copyright 2021 KCUR 89.3. To see more, visit KCUR 89.3.