Very few disc golfers are women. One local player works to get more women on the course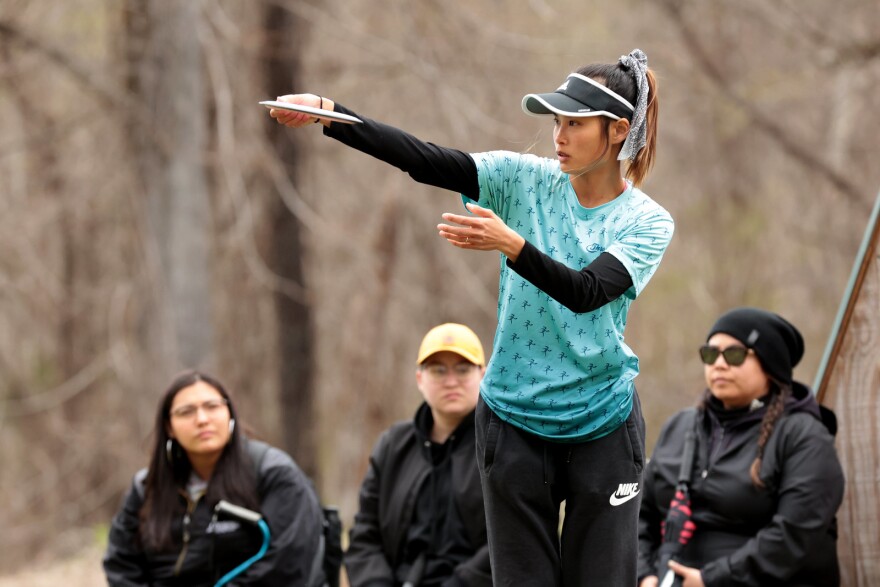 On Monday evenings between January and March, H.O.B. Disc Sports in Jefferson City is crowded. Inside, Alexis Kerman is registering players for a weekly drop-in putting league, while players all around her warm up by throwing discs. They hit the metal chain baskets with a clang.
The number of people who play disc golf hasgrown a lot since the pandemic, according to the sport's professional association. In mid-Missouri, it's no different. Many courses are free, making the sport a relatively cheap way to get outside and be active. But there's a distinct lack of women playing – something Kerman is trying to address in the region.
Kerman is a graduate student at MU, studying natural resources with an emphasis in parks and recreation. Her thesis centers on the disc golf community in Columbia. She also plays on MU's club team, and is registered as a professional with the Professional Disc Golf Association (PDGA).
"Creating a community of females that have that opportunity, or feel like they can be a part of a group that is composed of people like them, is just so important to growing the sport," Kerman said.
When Kerman started playing disc golf, she noticed there weren't many women on the course. If they were, they often played with their significant others.
So, she started working to get more women involved and more women playing together. Her outreach efforts include a winter indoor putting league, which she runs with the Jefferson City Women's Disc Golf Club. Women and children putt for free, while men pay a small fee to play. She started the league three years ago, when she was working in the capital.
On Jan. 30, nine women registered to play: the most the league had ever seen.
"I'm really happy about it," Kerman said. "We're drawing the crowd we want to, which is awesome."
Kermin played ultimate frisbee for many years, but switched to disc golf during the pandemic. She's not alone. The PDGA reported almost an 84% increase in new members in 2020.
The sport's popularity has continued to grow since then. But despite the growth, the PDGA reports the proportion of women has stayed around only 7% of overall membership.
Josh Woods, a sociology professor at West Virginia University who has studied the disc golf community, said the percentage has stuck between 7 and 9% for around 15 years.
"There's been several efforts to try to change things, right? And none of those efforts have done much," Woods said.
The PDGA created several initiatives to increase gender inclusivity, such as a Women's Committee that started an annual all-women's global competition in 2012 as well as grants for groups that provide outreach and education leagues like Kerman's. The organization also has rules which allow tournament directors to prioritize women participants if they desire.
Woods' research estimates women make up something more like 15% of all players when people who aren't registered with the PDGA are included. But he said there's still a long way to go to reach demographic parity— and there's not just one thing keeping groups out.
He said one factor is the small number of women already in the sport makes growth hard.
"If our friendships are mostly same sex, then whoever's the majority group is going to just perpetuate their dominance in the sport," Woods said.
He said too much focus on competition could also discourage recreational players, and harassment and sexism are also likely playing a role as well. Organizations such as #respectHERgame have advocated to address sexism and harassment on the course and online.
In the professional sphere, payouts are significantly worse for women than they are for men. Woods said professional women are less likely to earn sponsors and get paid 22 cents on a professional man's dollar– which makes it harder to make a living.
"So there's clear structural constraints when it comes to how you do the same thing that men are going to do on a much smaller budget," Woods said.
Kerman agrees women might not feel like there's space for them, which is why she holds events like the putting league.
"Creating a community of females that have that opportunity, or feel like they can be a part of a group that is composed of people like them is just so important to growing the sport," Kerman said.
In April, Kerman and MU's club team will compete at the 2023 College Disc Golf National Championship. They will compete with three women's teams— up from one team last year.