Community works to CRUSH Hunger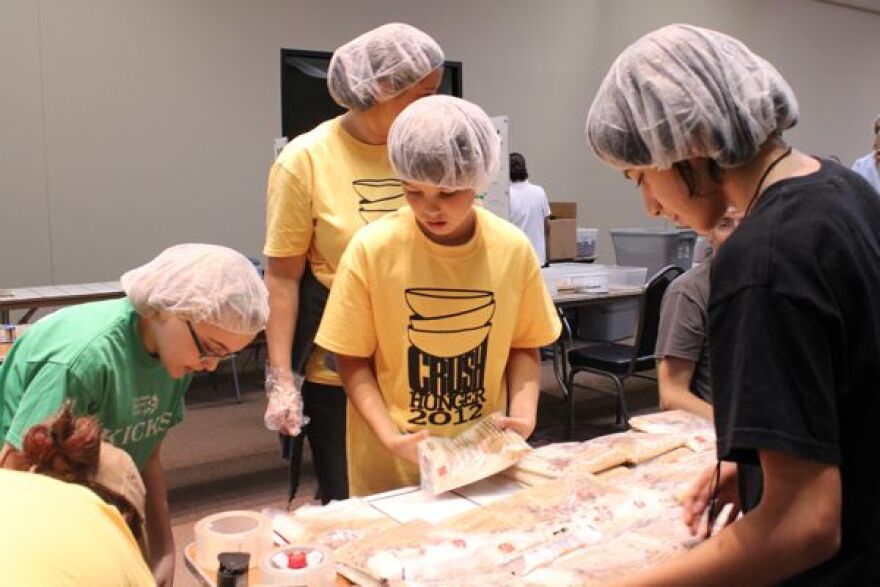 Hundreds of volunteers packaged thousands of food packages to send to hunger-stricken countries during CRUSH Hunger on Sunday.
Alive in Christ Lutheran Church partnered with Numana, an international hunger relief organization, to put on the event, which was held at the Parkade Center from 8 a.m. to 4 p.m. Numana provides the food and packaging materials for events, but it is up to volunteers to package and fund it. Numana then ships the food to countries that need it.
Each meal costs less than $.30, so $75,000 can feed about a quarter of a million people. Each packet of food – basically, beans and rice – contains six servings. That's about one cup of food per person.
Stephen McBee, developer of youth ministry at Alive in Christ, found Numana online while doing research on how to help the hungry. The church then reached out to other churches and the community as a whole to collaborate on volunteerism and funding.
Most of the volunteers weren't actually from Alive in Christ, Pastor Tim Morris said. Many came from other churches and the community as a whole. Woodcrest helped provide some of the funding, the youth group at Trinity Lutheran Church took a volunteer shift and several people from Christian Fellowship Church helped out. Hickman High School's HOPE Club, or Helping Our Peers Everywhere, also attended, among several others.
Each food packaging shift was scheduled to last for two hours, but volunteers worked so quickly that shifts ended early.
"They packaged so well that there's downtime," said Rachelle Nebergall, director of events and volunteers for Numana. She said Numana has packaged 25 million meals in the past three years.
On Sunday by 11 a.m., more than 300 volunteers had completed 55,000 food packets – and that was just partway through the day.
Nebergall said one of her co-workers recently returned from a food delivery trip and met a family in which two grandparents were caring for 10 grandchildren. The children's mothers had both died of AIDS, and the children only got to eat every three days.
Here in the U.S., "We hear about starving, but we've never witnessed it," she said.
And she said when there are people going hungry in the U.S., there are organizations and programs that help, such as food banks.
The Food Bank for Central and Northeast Missouri was also part of this event – volunteers were asked to bring peanut butter to donate to the food bank's Buddy Pack program. Children who don't have access to enough nutritious food during weekends receive the packs to take home from school on Fridays, and peanut butter is in short supply and high demand.
This story was written in partnership with ColumbiaFAVS, mid-Missouri's source for news about faith and values. To see more photos from the event, go to ColumbiaFAVS' Facebook album "CRUSH Hunger 2012."