Global Journalist: Balancing fear and facts while covering a pandemic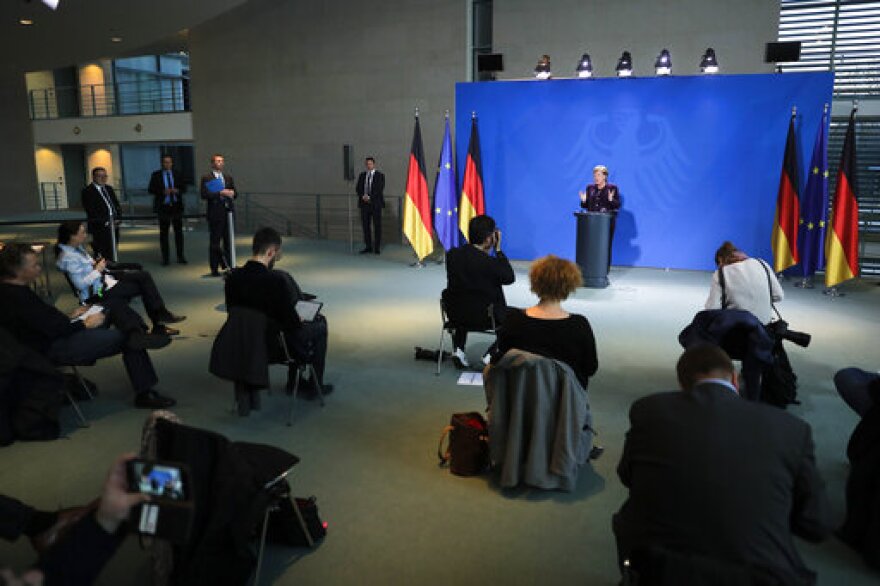 Fox News National Correspondent Bryan Llenas, was sitting in an editorial meeting in Manhattan in early February when he received a call that rocketed him out of his chair.
A Royal Caribbean cruise ship docked in nearby Bayonne, N.J. had returned from a trip to China, and four people on board were being screened for COVID-19.
"I took a cab. It was raining, and it was really cold," Llenas recalled. "On the way there, I was trying to find out as much information as I could in the back of the cab: calling health departments, calling the CDC and calling Royal Caribbean — trying to figure out what exactly we're talking about."
Understanding that panic could ensue after the news of a potential COVID-19 outbreak 10 miles from America's largest city, Llenas' main priority was to find clarity.
He is one of many journalists struggling with the challenges of giving their audiences the information they need about novel diseases without triggering mass hysteria. Reporters covering the global pandemic must quickly master complicated scientific topics while combating the spread of misinformation, which is made much harder to contain by social media. Global Journalist has been talking to some of them to find out how they strike the balance.
Llenas' due diligence uncovered a key fact:Bayonne's mayor quoted the Centers for Disease Control and Prevention as saying the ship presented a "below low-risk situation," Llenas said.
"With that information, I felt like 'Okay, we got to get a better sense of how serious this is.' When you're talking about coronavirus coming on a cruise ship and ambulances arriving, it can get out of hand quickly if you don't at least have some sense of what the facts were," Llenas said.
According to a Feb. 9 Fox News story, the results of the four passengers were negative.
Thinking about mom
Medical jargon can make reporting on disease outbreaks difficult. When writing about complicated topics, Llenas thinks about his mother.
"I think with anything that we do, the most important thing is to always think about 'Okay, I'm telling this to my mother who is cooking and doing laundry and probably like typing all at the same time.' So, how do I explain to people what's really happening when I know that they're sort of half paying attention to the news," Llenas said.
One way doctors have communicated their research on COVID-19 to the public is by comparing it with the flu, Llenas said. By comparing the novel virus with a common illness, people are more likely to understand.
"I think using those types of examples, in terms of how doctors believe that this is going from person to person, I think it's helpful. Honestly, let the doctors do the doctoring, talk to one and try to bring it down to a level that is easily understandable," Llenas said.
The digital virus
Journalism is facing a global epidemic of its own — the misinformation epidemic, as it has been called by media organizations such asThe Washington Post. Misinformationis now an expected part of reporting on disease outbreaks.
Medical and government leaders now have to factor in top-level planning sessions for disease outbreaks, Steve Baragona, a science reporter for Voice of America, said.
"When Johns Hopkins and others have done these kinds of tabletop exercises, they include an element where one of the areas is this misinformation going out," said Steve Baragona, a science reporter for Voice of America.
University of Texas-Austin Ph.D student, Daniel Wrapp, conducted research on a recent breakthrough for a COVID-19 vaccine. Wrapp's usual audience is fellow scientists; however, with the recent breakthrough, he has to communicate with journalists to share his research with the public.
"Ultimately, I think that scientists have a responsibility to try to communicate their findings to a general public in an easily understandable way. However, this can sometimes be a difficult task considering the seemingly esoteric nature of many aspects of scientific research," Wrapp said.
Llenas believes China's authoritarian regime may be one of the culprits behind the spread of misinformation. Initially, the Chinese government was praised for quickly reporting the COVID-19 outbreak. However, according to a Feb. 7 BBC story, it was later found that physicians in Wuhan had been trying to alert the public much earlier but were disciplined.
"The fact is that it is an authoritarian regime, which has typically not been very open about information, particularly information that could be damaging to the regime and to the government," Llenas said.
One Chinese media veteran says one thing has stayed the same in the 27 years since he's worked for Chinese media: news organizations play a different role in society from their U.S. counterparts.
"The main thing that's remained a constant is that the media system in China is part of the organization and is part of the state. Versus in the United States, we often say the media is the fourth estate," Shuhua Zhou, the University of Missouri's Leonard H. Goldenson Endowed Chair in Radio and Television, said.
However, Zhou believes that American media coverage of COVID-19 is also open to criticism. He questioned whether American media is sensationalizing the crisis to build an audience.
"It's all about getting people's eyeballs. The media here tends to question what the Chinese government is doing and the way the Chinese media is covering. So, it's questioning the process more than reporting on the cases to such an extent that people know of the virus, but then they don't know too much about it," Zhou said.
Technology: A double-edged sword
When reporting on disease outbreaks, technology can be helpful and harmful. Llenas used FaceTime to do virtual face-to-face interviews with passengers onboard the quarantined cruise ship. This allowed passengers to feel less isolated and gave the audience a sense of the human stories behind the COVID-19 statistics.
"I think seeing passengers quarantined in a cruise ship and speaking about their experiences from their cell phones has been very helpful. I think it's a reminder that technology is our friend in these cases," Llenas said.
On the other hand, social media has made it easier for misinformation on COVID-19 to spread. Baragona believes this is a part of the evolution of new technology.
"Every time some new communications technology comes out, there's this period of like, a flood of information, good, bad and indifferent," VOA's Baragona said. "It happened with the printing press, it happened with the telegraph. This is all brand new, and it's going to take a while for society to figure out how to deal with this, but social media absolutely has made this a more acute issue."
Unfortunately, it looks like reporters will have plenty of time to figure out ways to cope with the new challenges.
"I know that the CDC has said that they believe that this is going to be with us as a story for at least the remainder of the year going into next year," Llenas said.