In a Rural Missouri Community, Pride Takes Root
On a late Friday in June, Charley Joe Dill casually smokes a cigarette outside the Retroplex skating rink in Saint Robert, Missouri. He stands back a bit from the door, but people still flock to him - stopping to say "Hi" on their way in.
While spending a summer night at the skating rink isn't anything too unusual in rural Missouri, this particular skate night is special – it's part of the Pulaski County Pride festival.
This is the third year there have been official events in Pulaski County to celebrate LGBT pride. Charley said that the first year, he and a few others rented a pavilion at the community park, making reservations under the pretense of a family reunion.
Pualski County, Missouri, isn't too different from your typical Midwestern rural community. Outside of the local army installation – the largest towns are about 4,000 strong. It isn't what might come to mind when you think of LGBT Pride.
But, over the past few years, LGBT pride has begun to take root. Residents plan an annual Pride festival, and each year, as they add new events, it seems to gather steam.
Charley, who helps organize Pulaski County Pride, said it isn't your typical Pride festival.
"This isn't like the big city prides or anything like that, and we kind of embrace that small town [feel]. This isn't at all a city pride, but we are going to have good things here. It's going to be a lot different then what they're used to, but also very appropriate for our area."
The third annual Pulaski County Pride festival includes what Charley describes as 'small town pride events,' like a skate night, a community scavenger hunt, a brunch and a picnic.
Charley says he believes Pulaski County Pride is family friendly, and he hopes that some day, it could be a "destination" pride for families.
He added that as much as the pride events are for the LGBT community to come together, it is also to show the larger Pulaski County community that they live here too, and the "world didn't end."
This year's Pride festival has gotten more attention than in years past because of a controversy surrounding an event that is more typical of a Pride festival– a drag show called Dragapalooza. The controversy has been centered around the location of the event – the Saint Robert Community Center.
Darrell Maurina, the owner of the Pulaski County Daily News, raised concerns about the drag show being held near where children's baseball fields are located. He said he was worried about children having to share the bathrooms of the community center with a show that was designed for people who were 18 and older.
And Charley said the conflict didn't end there.
"One of the city aldermen said some pretty hateful things, and there were a few other people that had some pretty malicious things to say. "
In a personal post on Facebook, one Saint Robert city alderman compared gay people to child molesters. This city alderman could not be reached for comment.
But, Charley said, nothing was going to stop the pride festival events.
"There's going to be prejudice anywhere… Years ago we could never have had an event like this - a week like this - we would never been allowed for it," Charley said. "There's still going to be prejudice, bigotry, hatred, but that'll be anywhere. But in small communities, rural communities, it's not as bad as it used to be."
Many in the community gathered in support of Pulaski County Pride – people started to openly voice their support for the events, and local businesses donated swag and prizes for a charity raffle during the drag show.
Charley said that this support showed him and the rest of the LGBT community that they've "come a long way."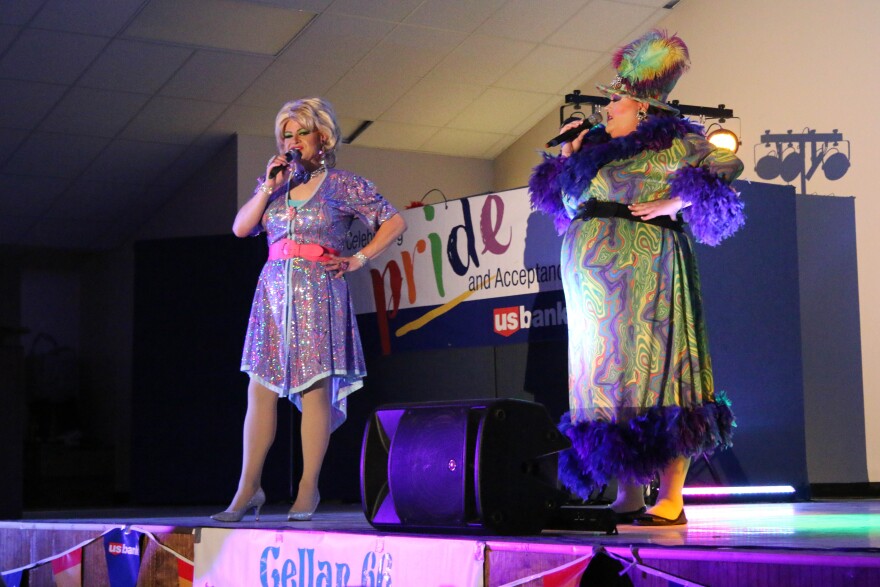 So, despite the controversy and complaints, on the last Saturday in June, the show goes on.
The house is packed. The venue, still the Saint Robert Community Center, holds about 400 people. Even with the air conditioning broken, the show is sold out and more than 100 others are turned away.
The drag show performers are on stage for about two hours, and the crowd eats it up – people have come from hours away to see the show.
I meet up with Charley and his husband Danny Kallman, who both performed in the show, after it wraps up. They are swarmed by people wanting to take pictures with them and congratulate them on a great show.
Charley says he's ecstatic that the community came out in such great numbers and that the show was a success – despite the broken air conditioner.
"It went well. It's hotter than hell, but it went well. I think people had a good time," Charley said.
Danny, his husband, smiles broadly.
"I had an amazing time," Danny said. "One of the best days of my life. I loved it."
The night starts to wind down around 11:30 p.m., but I find out the next morning that some people were out as late as 6 a.m.
On Sunday, the last day of the festival, things get off to a relaxed start. LGBT residents and allies sit down to a brunch of fried chicken and eggs.
And as the day rolls on and the rain rolls in, Pulaski County Pride returns to its roots – a simple picnic in the park. People talk and play reveling in simply being together.
Charley takes off to grab some pizza, and TJ Martin, one of the other organizers of Pulaski County Pride festival, stands to say a few words.
"Ain't nobody seen anything yet. Because 2017 is going to be f***ing amazing."
And she's proud of this year's Pulaski County Pride.
"[It's been] amazing — for the support that we wound up getting," Martin says, "for so many people coming together and making this a huge event in Pulaski County, Missouri. Not New York City. Not San Francisco, California. Not Chicago, Illinois. Waynesville - Saint Robert - Fort Leonard Wood, Missouri was put on the pride map this year."